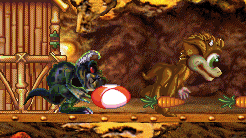 Albia saw its first elder this time! Mithos has aged gracefully and, thanks to the fan-made Grendel sprite expansion, is now sporting a silver curl of hair. I'm surprised he was the first to age to elder, as he's about 20 minutes younger than the oldest Norn, Kratos, who at 8 hours and 50 minutes still has a full head of hair.
Meanwhile, some of the younger Norns have congregated in the garden and temple area. Here Emil is desperately trying to escape Marta's affections by taking the lift to the treetops. These two still have very distinct personalities: Emil dislikes crowds and flees after too much time around others, while Marta actively seeks out the company of other Creatures. Considering that some of the other Norns have genetic changes of a similar scale that have little effect on their behavior, I'm surprised at how entertaining these two are to be around. I had almost excluded them because I wasn't sure I could care for so many Norns at once. Now I'm glad I changed my mind!
Surprisingly, there have been no new eggs for quite some time now. Usually an overabundance of eggs and kisspopping is the problem! I take back what I said about these Norns breeding easier than expected! Until now I haven't been encouraging them much, but I may need to start in order to ensure a healthy supply of second-generation eggs.